MyRecs: Aligning the stars, setting new, higher standards

Last quarter, we launched MyRecs a "zero-integration" product building on the data and integration of our RichRecs and RichMail products. The results are exciting thus far and are only getting better.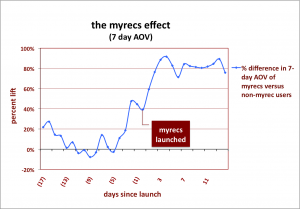 We have deployed MyRecs on a few etail sites, and it appears that MyRecs has found one of those product-development "Eureka" zones: an engaging shopping experience which achieves the objectives for the shopper and the retailer. For the shopper, MyRecs is a convenient place to see personalized shopping recommendations based on shopping history. For the retailer, MyRecs increases conversion and AOV (Average Order Value). The graph to the right shows the average AOV across retailers for users exposed to MyRecs vs those who didn't see MyRecs; AOV went up very significantly. Similarly, conversion for these users was more than double.
Other folks have built personalized pages for their customers in the past (most notably Amazon), but the retailers who have tried have always suffered from some very consistent (and meaningful!) feedback—"I bought this doo-hickey for my niece for her birthday 3 years ago—Why, oh why is it dominating all of my recommendations?!?!?" By leveraging the adaptive learning and feedback built into richrecs (richrelevance on-site recommendations) and an innovative approach to user interface (special thanks to Darren Vengroff & "Happy Brad" Cerenzia for their work on both!), we've managed to create a next-generation personalized recommendations application that pushes the limits of what's doable—and demonstrates these results!