Gaining Access to Retail Metrics that Matter

The lack of quality metrics available continues to stymie the advertising industry's ability to justify spend. While still important, a "click" and/or "view" just doesn't get me that excited anymore. In order to keep the momentum behind the shift towards digital media, we need to empower our brand partners with better tools to justify this industry change.
As brands continue to be held to higher standards of advertising ROI, ad budget managers are shifting dollars closer to the consumer. Today, Shopping Media is the most potent media available to influence consumers and drive them towards purchase. Why? Because it enables advertisers to get closer to their most valuable customers, deeper in the purchase funnel.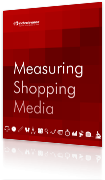 But maximizing ROI on Shopping Media necessitates the right retail-based ad server, publishers, and retail conversion metrics. Once brands are empowered with these tools, they will be able to 1) define their market, 2) measure campaign effectiveness, and 3) optimize future campaigns with the right research.
To learn how a retail ad server can empower you with the proper measurement tools, and read current use cases of new retail-specific metrics, download our new white paper now!