Winning the Trust, Confidence – and Spend – of Online Consumers in a Down Market

New York, March 3, 2009
At an exclusive strategy and networking event for online retailers, JupiterResearch's Patti Freeman Evans unveiled a recent study focused on consumer online shopping trends, before joining a panel of web retail experts who advised attendees on how best to respond to the weakening economy.
We are pleased to announce a West-coast incarnation of this event will be held in San Francisco on March 26, 2009 – see registration information below.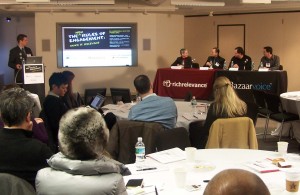 According to Evans, retailers face both dark clouds and silver linings. Even as overall consumer spending continues to soften, the ecommerce sector still shows more resilience than the overall market – but consumers remain wary. In the face of these tough times, Evans and the panelists identified consumer trends that savvy marketers would do well to capitalize on – specifically, consumers' explicit desire for additional information and reassurance to help overcome ever-higher financial and psychological purchase barriers.
It was a pleasure to see a great many retailers turn out for networking and strategy at the NYC session. For those of you who missed it, there will be a West-coast version of this exclusive breakfast briefing in San Francisco on March 26, 2009.
Patti Freeman Evans, Head of Research, JupiterResearch
Arturo Perez-Reyes, Professor, Haas School of Business, UC Berkeley
David Selinger, CEO and founder of richrelevance
Sam Decker, Chief Marketing Officer for BazaarVoice

Briefing & Breakfast
March 26, 2009, 9:00 a.m. to 11:30 a.m.
The Palace Hotel, San Francisco

The event is free, but space is limited. Please register early.