Matching Tech Leaders with Social Service Opportunities

Last week, the Wall Street Journal reported on a newly launched program, Palindrome Advisors, that aims to match an elite group of leaders in technology and other industries (media, advertising, entertainment, government, education, sports, hospitality, and finance) with nonprofits that need their help—all based on aligning advisor skillsets to just the right social service organization.  What I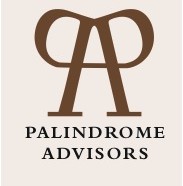 like most about this group (and why I've signed up as a Founding Member) is that it isn't just about board members giving back through financial contributions…it's about true time and emotional investment in a cause. Palindrome helps ensure success by qualifying the match on both sides and providing community resources that drive long-term relationship success.  By taking the Palindrome "Pledge," I've promised to commit myself to a non-profit by serving on the board for at least one year as well as participating in the Palindrome community (something I do already :-))
So why is this different? For the most part, when people think about participation with a non-profit they think in terms of writing a check or drop-in volunteering, which is actually how Palindrome initially started. But we quickly recognized that it's often hard for non-profits to successfully integrate non-fulltime volunteers into long-term activities and strategies that really impact the direction of the organization. From my experience with my own non-profit (MyTwoFrontTeeth, now part of the Family Giving Tree) I know that an operational and strategic understanding of emerging technologies and media is often critically absent in the social services world. It's not just the business world that is struggling to capture the meaning of Twitter, Groupon and Facebook and their long-term impact on our service model to customers. Nonprofits are trying to tackle these same problems, but without the funding of VCs, without the stock-options packages to attract folks with experience and without boards who understand the importance of execution in these emerging fields.
Through Palindrome I hope to bridge the gap between "those in the know" and "those in need." Many of us want to make a meaningful impact on the world through more than just our day-to-day work, but we just don't know where to start. Palindrome is a channel to achieve this.  Sound a little idealistic? Perhaps.  But I'm joined by a fairly talented group of people with the same mission. Among the advisors are former Facebooker Chris Kelly, Playdom co-founder Rick Thompson (my very first boss J ), former Mint.com CMO Donna Wells, Tapjoy CEO Mihir Shah, the Ellen & Dave Siminoff crew, my buddy Adam Bain (who also happens to be Twitter's President of Revenue), Social Gaming Network founder Shervin Pishevar, Google vice president of product management Neal Mohan, and Apple director of iPhone apps Dag Kittlaus.
I'm thinking that a little idealism and time commitment from these folks might just go a long way. 🙂
Want to read a bit more about Palindrome? Check out today's Fast Company article on the program and bookmark their website.