Re-cap and Insights from Future of Shopping in London

London may be gearing up to celebrate the Queen's Diamond Jubilee but here at RichRelevance UK, we're still riding high on the momentum from last week's Future of Shopping event!
With about 100 retailers (including Argos, Boots, Dixons, Harvey Nichols, John Lewis, Marks & Spencer, Net-A-Porter, Sainsbury's, etc.) in attendance, the audience was held rapt by an energetic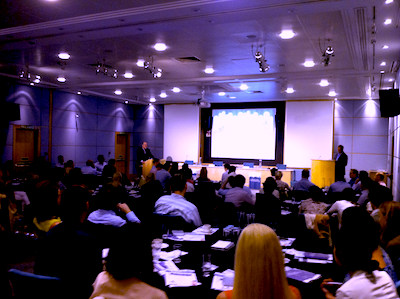 programme packed with key learnings and takeaways from RichRelevance CEO David Selinger and bestselling author and renowned retail expert Paco Underhill.  The presentation was followed by an expert panel discussion featuring IDC's Christine Bardwell, PwC Logan Tod's Matthew Tod, and CEO of Firebox.com, Paul Zimmerman.  Together, they helped to pull all the day's thinking back to centre.
Below are just a few of the key insights that surfaced from our gathering:
Technology's role is to respond and resolve, not replace human interaction or be put in place for "technology's sake." When utilising any technology, we must preserve the human dynamic to keep the connection strong between customers and marketers.
The data imperative is real and we as marketers and merchants must look at how we can transform massive amounts of data into "smart data" that serve not just the c-suite but those who are working the front lines of customer engagement and service.
Conversion rate is an unfair value-based metric. It focuses solely on the commitment to purchase without considering the additional attributes that makes up a female's browsing behaviour.  How many shoppers enjoyed the experience and will return to purchase later; how many shoppers will tell their friends about their visit, while mentioning the brand, range or styles that suit?  Benchmarking exclusively on conversion as a business success metric simply does not tell the whole story.
Don't try and compete with Amazon. In the words of Sun Tzu, "the worst policy of all is to besiege the walled cities."  Amazon are everyone's number one competitor.  We must focus instead on learning more about customers so we can  attune our omni-channel experiences to satisfy her shopping needs.  In so doing, we move the purchase decision beyond price and convenience to personal needs and brand alignment.
Intrigued and wish to learn more?  If you're across the pond, check out our upcoming Future of Shopping events, to be held in NYC in June and the San Francisco Bay Area in September.
We look forward to you joining in on the discussion.