Recently we participated in the event E-Commerce One to One in Monaco. In its sixth year, it yet again proved to be THE event for ecommerce leaders.  With over 1,000 carefully selected participants, the three-day event made for a rich exchange of ideas and innovations.
Some of the key topics discussed ranged from the shopping experience on mobile devices and developing a 'mobile first strategy' to customer service excellence and loyalty programmes. A survey of retailers attending the event uncovered the following top six investment priorities for retailers in 2016:
Creating excellence in customer service
Enhancing the shopping experience for mobile
Building customer-centric financial indicators
Developing a mobile first strategy
Building innovations for loyalty programmes
Developing branded content
For RichRelevance, E-Commerce One to One represented an opportunity not just to make new acquaintances, but also to meet and network with existing customers through dinners and receptions. The speaking sessions also featured one of our valued customers —children's apparel retailer, Petit Bateau — who presented a workshop about their omnichannel journey with us.
In her workshop, CRM & Digital Director, Christel Hennion talked about the challenges faced by Petit Bateau and why they needed an omnichannel approach. With nearly half (44%) of their customers first searching online before visiting a store, Petit Bateau needed to connect online and offline sales channels to better understand their customers so they could make the right omnichannel recommendation.
To do this, Petit Bateau leverages RichRelevance's user profile service to gather and access the necessary information about their customer both online and offline. With this customer knowledge, Petit Bateau used RichRelevance product recommendations to personalize the relevant offer on each channel for their shoppers. As a result, they have seen increased engagement and frequency of purchase from their customers.
Petit Bateau also shared an interesting cohort analysis. Even though a small percentage of shoppers interact with product recommendations, this segment represents 50% of orders and 60% of global turnover.
This segment leverages personalization as a means of navigation and catalogue discovery. They are often strongly committed and provide high value to the retailer.
See the E-Commerce One to One blog post for more on Christel's talk.
Similarly, Google presented a separate workshop where they further expanded on the topic of analysing the influence of online and offline sales, again using Petit Bateau as the example. Laureline Serieys, Retail Industry Head at Google, discussed how they helped Petit Bateau map their customer journey and measure the influence of online and offline purchases. Read more on this session here.
Thanks to all those we met at E-Commerce One to One! The stellar group made it such an insightful event to attend.  We're looking forward to 2017 already.
Recently key leaders in omnichannel personalisation attended our EMEA Customer Advisory Summit in the United Kingdom. We were delighted to welcome customers from France, Spain, Germany, Sweden, Denmark and the United Kingdom to the only European forum dedicated exclusively to omnichannel retail personalisation.
In its fifth year, the objective for this event, as always, was to help furnish retail and marketing leaders with the strategies and tools to build superior customer experiences. In addition to the RichRelevance leadership presenting, I'm so pleased to share that our EMEA Summit featured a stellar roster of thought leaders and world-class brands; and I wanted to share my insights related to this exciting event.
The EMEA summit featured keynote speaker Spencer Izard, Head of European Insights at IDC. Spencer spoke about differentiating through retail, which provided our retailers with further tools and information on how to use personalisation to innovate and transform their customer experiences.
Additionally, well-known and influential retailers gave presentations about their successes using RichRelevance as their omnichannel personalisation partner.
Marks & Spencer discussed why they chose RichRelevance Recommend™ and how RichRelevance helped them with a platform refresh. In addition, M&S provided insights about how they leveraged Client Excellence to drive sales, conversion and overall value.
French retailer, Petit Bateau, talked about how they have successfully leveraged RichRelevance across their multiple websites, through email, mobile and offline. They also spoke about how they have started to build their own strategies to segment audiences and make more predictive recommendations to their customers.
Shop Direct discussed how the UK's second largest pure play retailer found RichRelevance to be the best tool to help them personalise their customer's shopping experience and fulfill their company purpose to "Make good things easily accessible for more people."
Saks Fifth Avenue presented the US retailer's omnichannel strategy and showcased how Saks elevates the customer experience through leveraging Recommend. 
The event was supported by our partners Accenture, Hooklogic, Eagle Eye and Content Square all of whom contributed to the lively exchange of ideas, insights and learnings around improving customer experiences.
Omnichannel personalisation is a top strategic priority for retailers because the customer experience has now become the new battleground for retailers. The resources at the event helped our clients learn how to best use the Relevance Cloud personalisation platform to elevate the customer experience in real time, at every touchpoint, and compete based on a unique view of what is possible from their brand.
Recently key leaders from our amazing customer base attended the RichRelevance Customer Advisory Summit in New York City (NYC) —an event dedicated exclusively to omnichannel retail personalization.
The Customer Advisory Summit is a gathering of leaders to share common insights, knowledge and best practices for designing customer experiences across channels with personalization at the centerpiece. In addition to the RichRelevance leadership presenting, many of our customers presented their own experiences with integrating RichRelevance's personalization suite of products and services into their businesses. I wanted to share a quick summary related to this inspiring event.
First off, the NYC event featured a keynote from Forrester's Principal Analyst, Brendan Witcher, who spoke about the convergence omnichannel and personalization. Brendan outlined how in this 'Age of the Customer', companies must focus on four market imperatives:
Transform the customer experience – this requires real investment, whether that be to grow or build relationships and loyalty
Embrace the mobile mind shift – consumers are always connected, which radically changes their needs and wants
Become a digital disruptor – this includes the retailer's business….shortened development cycles with deep, real-time understanding of customers
Turn big data into business insights – this requires insight across the entire customer life cycle
Additionally, influential retailers gave presentations about their successes using RichRelevance as their omnichannel personalization partner.
Rakuten, the third largest ecommerce company in the world, discussed how they partnered with RichRelevance to reach the top. Rakuten outlined the results achieved with RichRelevance Hill Climbing, Advanced Merchandising and Recommend™ to accomplish their key performance goals.
Stage Stores spoke about how they partnered with RichRelevance to achieve the perfect storm of positive results leveraging personalized product recommendations to outshine their key performance goals.
L'Oreal spoke about how personalization helps them with their vision of Beauty for All. They spoke in more detail about their success using Engage™, the personalized content software from RichRelevance with their Clarisonic brand as featured in this recent case study. Clarisonic achieved a 24% increase in revenue per session through the Engage implementation.
SHOES.COM also provided a case study discussing their vision for personalization, challenges and successes. SHOES.COM talked about how they anticipate demand through personalization leveraging RichRelevance Recommend and Discover™.
SHOP.CA, the largest Canadian online marketplace, talked about how they are a power-user of the Relevance Cloud™ and how they utilize the full suite of RichRelevance solutions. SHOP.CA spoke about how they personalize their customer's shopping experience across multiple touchpoints including email, online all the way to the call center.
Lastly, Saks Fifth Avenue spoke about their omnichannel strategy and showcased how Saks elevates the customer experience through leveraging RichRelevance Recommend. Their use case outlined how RichRelevance was tested against their own personalization algorithm.

As customer experience emerges as the new battleground for retailers, omnichannel personalization is a top strategic priority. This event provided an energetic exchange of ideas, insights and learnings to help our customer community shine while improving their own customer's experience. Lastly, the resources at the summit helped our clients learn how to best use the real-time capabilities of the Relevance Cloud personalization platform to enhance the customer experience at every touchpoint — competing based on a focused view of what is possible from their brand.

London may be gearing up to celebrate the Queen's Diamond Jubilee but here at RichRelevance UK, we're still riding high on the momentum from last week's Future of Shopping event!
With about 100 retailers (including Argos, Boots, Dixons, Harvey Nichols, John Lewis, Marks & Spencer, Net-A-Porter, Sainsbury's, etc.) in attendance, the audience was held rapt by an energetic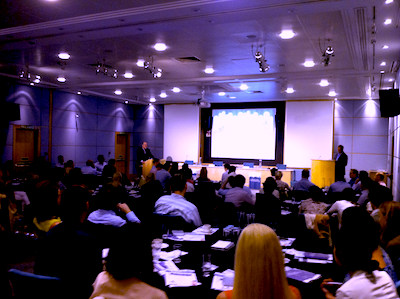 programme packed with key learnings and takeaways from RichRelevance CEO David Selinger and bestselling author and renowned retail expert Paco Underhill.  The presentation was followed by an expert panel discussion featuring IDC's Christine Bardwell, PwC Logan Tod's Matthew Tod, and CEO of Firebox.com, Paul Zimmerman.  Together, they helped to pull all the day's thinking back to centre.
Below are just a few of the key insights that surfaced from our gathering:
Technology's role is to respond and resolve, not replace human interaction or be put in place for "technology's sake." When utilising any technology, we must preserve the human dynamic to keep the connection strong between customers and marketers.