It's Not Too Late To Think Like Amazon This Holiday!
'Tis the season that many retailers look to tactics and strategies to programmatically maximize their e-commerce conversion, and customer value pre-peak. These new innovations are critical for success, but always include a bit of risk. Are there any "tried-and-true" approaches we can confidently implement pre-peak with 100% certainty?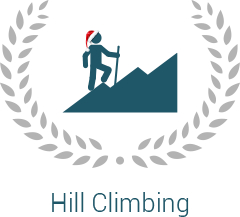 We're happy to advise you on how best to implement key tools such as those RichRelevance offers and believe that this—paired with "Hill Climbing" will benefit you most. Hill Climbing maximizes your profits by optimizing assets you already have. We encourage you to "Hill Climb" hard for the next few weeks to leverage your existing strengths, insights, and capabilities.
Model yourself after the most successful Hill Climbing organizations (Amazon, eBay, Google) and listen to data, test ideas rigorously, and optimize constantly. Two key tenets of Hill Climbing are Metrics and Meritocracy—make consistent measurement of change easy, and combine this with agile change management. Combining these two engenders a culture motivated by positive results and empowered to make them happen one step at a time.
One of the easiest ways to optimize assets in hand is by empowering everyone to innovate. A recent Deloitte study quoted an executive: "We're trying to create a culture of more questioning, because the top-down information flow is a naïve and outdated approach to running a company." For years I've advocated a culture that favors trusting your talent. Undertake suggestions that arise from those on the front lines of any function, even if they don't echo the HIPPO's (Highest Paid Person's ) opinion … perhaps especially if they don't echo the Hippo's Opinion. You hired your team for a reason, so let them innovate, especially those who are normally "tactical" (rather than strategic). Listening to their solutions may transform your priorities, and their ideas might just solve your operational challenges—elegantly and creatively.
As for listening to your data and testing rigorously, we've found that the highest ROI arises from:
Always Respecting the Shopper:

Apply user-centric methodologies to optimize your shopper's journey.

Iterating Continually:

Implement a continual, iterative process of small-scale tests and refinements. Based on the scientific method, generate a hypothesis, test it for a couple of weeks, and then accept it or reject it; then move on to the next iteration.

Working in Parallel:

Have a number of ongoing tests on different parts of your site, especially when tests are confined to different categories or page types. This frees decision-making from being HIPPO-driven.
RichRelevance believes so strongly in Hill Climbing that we've made it the central tenet of our client services organization. We've created a division called "Client Excellence" which has converted the art and practice of Hill Climbing into a science. We've successfully implemented our practices at dozens of retailers, creating hundreds of millions of dollars of value. It's an amazing badge of pride for this team; not only are they critical to the success of RichRelevance, they're having an undeniable impact on the business of our clients. Some of our clients have even adopted agile development methodologies internally as a direct result of our engagement.
Here's to a "Hill Climbing" Black Friday, Cyber Monday, and all the weeks after!