Introducing Advanced Merchandising for perfectly matched recommendations
Today, we're happy to expand our product recommendations capabilities with Advanced Merchandising. Now, you can present product ensemble recommendations to inspire consumer purchase with perfectly matched products.
We've eliminated cumbersome manual product mapping, along with the need for your merchandisers to keep recommendations up to date with inventory and trends. You can now leverage existing data within the RichRelevance dashboard to create new recommendation strategies that group products by attributes or compatibility.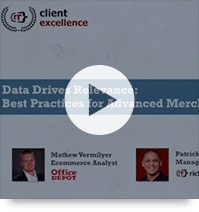 Advanced Merchandising makes recommendations more relevant, intelligent and personal. Mobile and online shoppers demand—and deserve—the same personalized attention found in a brick-and-mortar store, where sales associates recommend what shoes and accessories to pair with a fall season dress, or which brand of headphones are most compatible with iPhone 6. Office Depot is successfully using Advanced Merchandising to connect consumers with their perfect match. You can watch this webinar to learn more.
To inspire you, read on for a few ways that RichRelevance customers are already using Advanced Merchandising.
Complete the look: Fashion complete head-to-toe looks with recommendations based on the latest trends and shoppers' own personal styles.
Don't forget accessories: Recommend compatible accessories and warranties to consumer electronics or office supplies shoppers.
Discover the long tail: Aid shoppers in discovering relevant new products that rarely surface with top sellers or other commonly used strategies.
Match compatibility using CNET
Through our exclusive partnership with CNET Content Solutions, consumer electronics retailers benefit from CNET DataSource™, a database that contains over five million technology and consumer electronics products that leverage specific product attributes such as key selling features, price points, and technical details. Learn how a top-20 consumer electronics retailer gained a 3% increase in revenue per session using Advanced Merchandising with DataSource™ to recommend compatible products.
Try Advanced Merchandising today
To present perfectly matched recommendations using Advanced Merchandising, get in touch with us now!