L2 Guest Blog Post: Who Are the Leaders in Omnichannel Retail?
To be successful in omnichannel retail, brands need to combine the advantages of both e-commerce and physical retailing. The top brands in omnichannel follow strategies like leveraging physical stores as fulfillment centers and utilizing technology to engage consumers. L2's Intelligence Report: Omnichannel Retail (http://www.l2inc.com/research/omnichannel-retail-2015) pinpoints the most forward-thinking players in each pricepoint.
Luxury
Luxury brands continue to lag in both e-commerce and in-store incentives. However, major players like Gucci, Dior, and Louis Vuitton made e-commerce a priority for the first time ever this year, signaling that they are finally catching up to other retailers.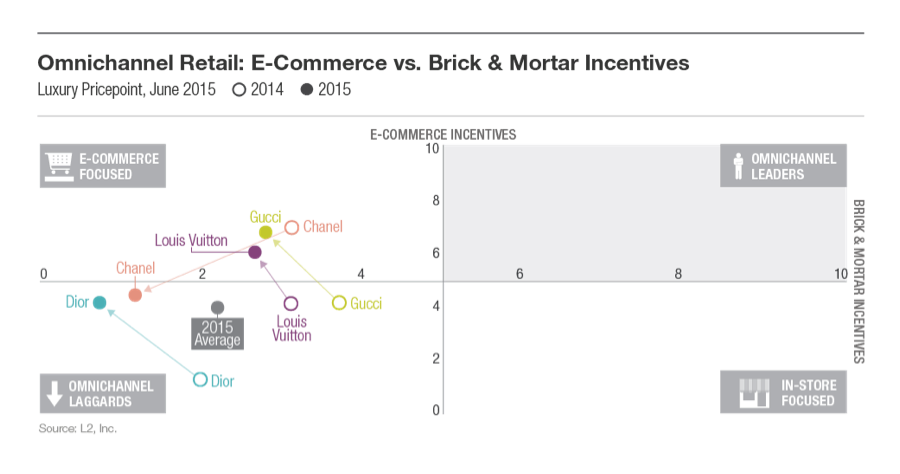 Prestige
In the Prestige segment, Nordstrom and Neiman Marcus both invested substantially in omnichannel initiatives. Organizational shakeups played a large part in the change, such as Neiman Marcus fusing its online and store executive teams, contributing to the retailer's shift from the E-Commerce Focused quadrant to the Omnichannel Leaders quadrant.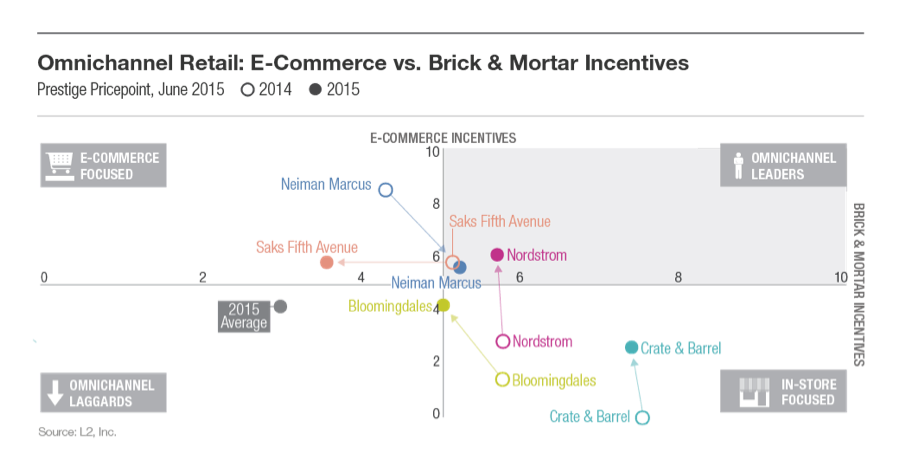 Mass
In the U.S., big box stores such as Walmart and Home Depot moved from e-commerce investments to in-store initiatives, highlighting their new strategy for competing with Amazon. By using brick-and-mortar stores as fulfillment centers as well as click-and-collect locations, these mass retailers can compete with the enormous reach of e-tailers. Conversely, Best Buy shifted from an in-store to an e-commerce focus, making the retailer a leader in omnichannel.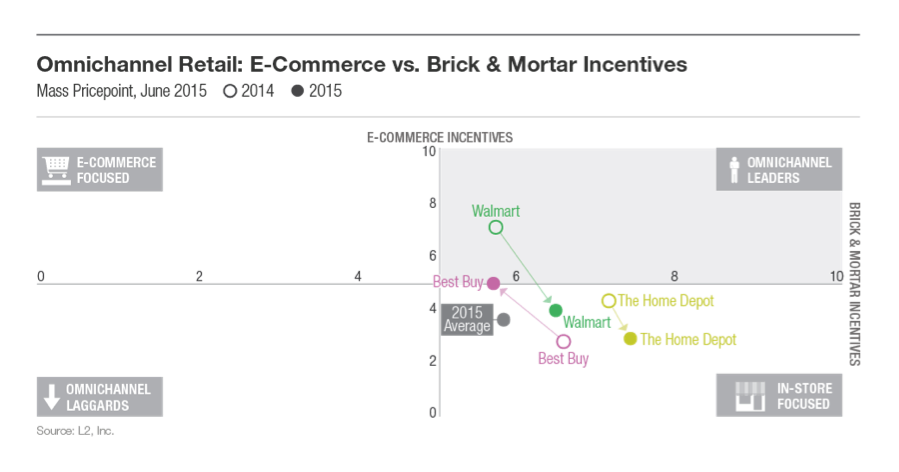 In the U.K., where click-and-collect has been popular for years, brands substantially accelerated omnichannel investments this year. Boots and John Lewis led the movement, launching inventory visibility across channels as well as advances in click-and-collect such as after-hours depots and drive-through windows. These moves continue to solidify U.K. brands' leadership in omnichannel retail.