Cost of Service: Moving Beyond Savings to Drive Creativity and Innovation

Simply put, cost of service "measures what it costs to create, deliver and maintain a service including labor, 3rd party services, supplies, licensing, goods, etc."  YAWN – I think I'm turning into the Dilbert pointy haired boss!  But while it may sound boring, cost of service (COS) is critical to a company's viability as it grows and scales to meet its competition and its future.  In addition, COS can also drive innovation, creativity and thoughtful design.
As a startup, or early in a product release, companies are focused on speed to market and getting ahead of the competition.  Costs are managed within reason, but don't drive the business. As it matures, a company evaluates methods, creates processes and focus turns to the cost of services and efficiencies—of both people and systems.
But how do you move from a simple soft dollar (a $1M budget) to a measurable number that can be optimized—i.e. cost per transaction, cost per datacenter or cost per customer?  The first goal is to create measurements that identify value. For RichRelevance, a core measurement is our recommendation response time.  The core steps to reducing your COS begin with setting goals, identifying success metrics, surfacing all costs granularly and grabbing the low-hanging fruit.
Below are five best practices that we prioritize here at RichRelevance to optimize COS.
Make your vendors your partner. Put some skin in the game and turn suppliers into partners. Take the time to build trust and a strong relationship that will drive flexibility and mutual success. Negotiate your contracts as your needs change.  Your customers do this—why not manage your vendors the same way? Consolidate and reduce the number of similar suppliers. If the contract is small, you have minimal influence and the vendor can become hard to manage. Create an upside for your good supplier, allowing them to move their needle while they help you grow. Bring your vendor into your design meetings; they provide great insight on how to use their products efficiently while providing guidance on how others have conquered related challenges.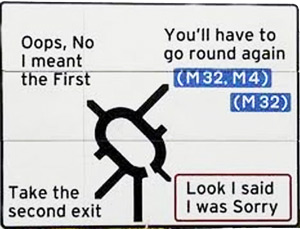 Improve your processes. This picture is said to be a roundabout sign at the College of Law in Bristol, England. It's an example of bad process fomenting bad results. Sure, it addresses the majority of traffic; drivers want to get on the M32 motorway and get out of town. The exceptions are not as well documented and are the crux of the "bad process," where the other drivers get lost and waste time. I picture the Griswolds circling the roundabout with Clark repeating "hey kids, there's Big Ben."  Thank you, Captain Obvious, how about we figure out how to get out of this?
The key is to work collaboratively across your company, not just within your team. Document current processes, especially those that are repeatable. Not only does this provide you an idea of what requirements and time it takes to complete a process, it also helps identify responsibilities and bottlenecks. Some ideas for getting started on this are providing documentation so others can perform faster and better; create a formal escalation document with phone numbers and responsibilities; review billing/purchasing practices to look for reductions in paperwork and human intervention.
Increase monitoring. At RichRelevance the Site Ops team engages closely with our development team and customers. We work with our developers at the design phase to identify the metrics that best demonstrate performance, be it server requests, data moved or sessions opened. Doing this at the beginning allows for a smooth transition as you release new features or patch existing ones.  Adding a metric after release can be onerous and resource-intensive, so do it early!  The devs get a test to use during development and you get better insight into your performance.  Engage your customer and encourage them to measure your service. Whether it's just a service up/down or more extensive tests that includes transactional testing, you get an extra set of eyes watching your systems and your customer builds trust in the product.  The quality of the product is raised, calls go down and a savings is created. It's an easy win for both of you.
Innovate. Stay on top of the latest use of technology. Review your technology constantly. Look for new and creative technology to flatten your costs of scaling and building.  RichRelevance has won awards for its use of innovative technology. We use SSDs to deliver lightning fast recommendations and ads; we utilize Hadoop to manage mountains of data (terabytes a day!); and, we review our technology constantly during design and release to make sure we are on top of the latest and best use of technology.
Prioritize capacity planning. This is one of the single highest costs in a growing company. Identifying correct measurements to scale efficiently is critical. This is where new monitors on your systems become critical. Load test and push your systems to know where they stretch, and where they break. Once you know those points, use your partners and your internal team to help solve those challenges.
Implementing these best practices does not deliver instant gratification. Beyond a quick contract renegotiation you may not see immediate savings. Many efficiencies and savings are incremental or create savings that won't be fully realized for months.  You may see them build over time as you see a service's costs go down or grow slower.  Or the savings may be intangible—such as an hour you've handed back to a team through better process, which is an hour that can now used to build something new, better support a customer or fix something in the bug tracking backlog.
Hopefully we've provided you with some ideas on where you can reduce costs, create efficiencies and make the pointy haired boss happy, at least for a couple hours. This process has frustrations but is very rewarding when complete. Sure you save costs, but you will also drive innovation, thoughtful design and collaboration—all things that create a rewarding environment, personal challenge and a great company to work for, like we have here at RichRelevance!