Global Consumer Attitudes Towards In-Store Technology
RichRelevance research unveils consumer attitudes towards in-store technology are markedly similar across America, Britain and Europe, except when it comes to facial recognition.
Whilst American and British shoppers welcomed a lot of shopping experiences they were the most creeped out by personalization initiatives involving facial recognition. Out of all the countries surveyed, the French were identified as the most open to in-store technology, with the highest cool ratings against questions.
As depicted in the infographic, all the nations surveyed agree that being able to scan products on their mobile device in-store to read product reviews is the coolest trend. 79% of Americans, 76% of French, 73% of Germans and 62% of British, all think this capability is 'cool'.
However, differences appear when facial recognition is concerned with the French being the only nation surveyed to think it's cool to be identified as a high value shopper via facial recognition technologies (62%) verses all the other nations surveyed in agreement it's quite creepy – US 67%, UK 75% and Germany 43% creepy.
While 40% of British and Americans are keen on digital screens in dressing rooms, the survey found the French and Germans are even more enthusiastic with over 65% of French and 61% of Germans thinking it's cool. Likewise interactive mirrors which model outfits were considered 42% cool in the UK, verses 63% cool in France and 58% cool for Germany.
Even where shoppers were creeped out by certain initiatives in-store, the French were less 'creeped' out than their British, American and German counterparts. For example where 75% of British, 64% of American and 48% of Germans would not like to be greeted by a sales person who identify them via their mobile phone or app as they enter the store, only 36% of French are turned off by this idea.
It'll be interesting to see how attitudes change in the forthcoming year in particular with virtual reality technologies becoming more widely adopted by retailers to enhance shopping experiences in-store.
Find out more about the Creepy/Cool survey here.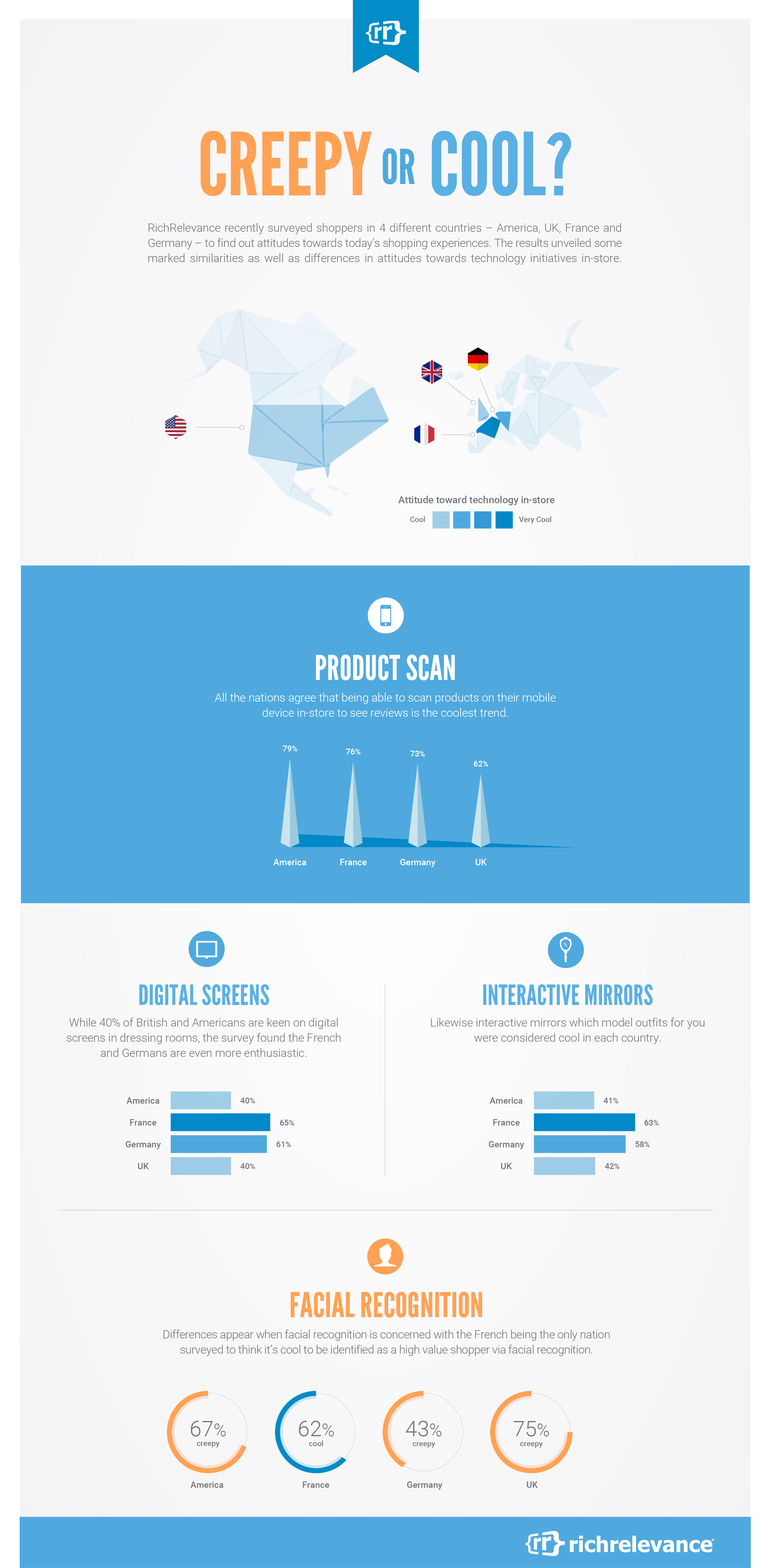 DOWNLOAD PDF