EMEA and US events bring together leaders innovating the omnichannel customer experience
for HP, Macy's, Tesco and others
San Francisco, CA – February 27, 2017 — RichRelevance®, the global leader in omnichannel personalization, today announced its 2017 Client Advisory Summit series in the U.S. and EMEA. The conferences will showcase the future of the retail customer experience – with a focus on the people and brands using data and technology to elevate every aspect of shopping. Speakers include customer experience leaders from HP, Macy's, Tesco, Accenture and others, as well as noted digital marketing gurus Bryan Eisenberg and Damian Ryan.
Both events will provide attendees with practical tools and strategies for transforming RichRelevance's technical achievements, including a decade's worth of innovation in machine learning and artificial intelligence (AI), into superior, full-spectrum customer experiences that deliver business impact. The conference will also introduce significant business intelligence enhancement to the Relevance Cloud™ personalization platform, and go deep on RichRelevance's new Find™ product that powers and personalizes product search in tandem with personalized browse and navigation, content and recommendations.
The 2017 Client Advisory Summit series kicks off in London on February 28 – March 1 and then moves to New York City on March 9. Highlights include:
Client Advisory Summit 2017 EMEA
Located at the award winning Sopwell House, the RichRelevance EMEA Client Advisory Summit is the only European forum dedicated exclusively to the subject of omnichannel personalization.
The 2017 event features customer presentations from Tesco, the Book People and Media Markt, Russia.
Additional keynotes include digital marketing expert, Damian Ryan, author of 'Understanding Digital Marketing", and Accenture's Managing Director of Interactive, Christine Connor.
Client Advisory Summit 2017 US
RichRelevance's U.S. Client Advisory Summit assembles an all-star list of retailers at the trendy APELLA event space.  Customer presentations include HP and Macy's.
Bryan Eisenberg, an internationally recognized authority in online marketing and New York Times best-selling author, will keynote the morning session.
Accenture's Jeriad Zoghby, Global Lead for Personalization, will deliver a keynote on the Future State of Personalization.
"Personalization is not a campaign or a point solution; it is a strategic initiative that evolves every touchpoint around the customer," said Eduardo Sanchez, CEO of RichRelevance.  "The 2017 Client Advisory Summit series provides retailers with a chance to learn directly from the people who are designing the next generation of end-to-end personalized experiences that combine data with AI, beacons, IOT sensors, wearables and other cutting-edge technology to stand out and delight consumers."
PRESS CONTACTS
Renee Newby
757.651.6554
Accenture Ventures invests in omnichannel personalization leader as customer expectations continue to grow worldwide
NEW YORK; November 15, 2016— Accenture (NYSE: ACN) has expanded its strategic alliance with RichRelevance, a global leader in omnichannel personalization, to strengthen the capabilities of Accenture Interactive and boost the personalization services it delivers to global clients. As part of the expanded relationship, Accenture Ventures has made a minority investment in RichRelevance.
Building on an alliance that was formed in 2015, Accenture Interactive becomes the preferred implementation partner for the RichRelevance global personalization platform. More than 240 multinational brands rely on RichRelevance to power personalized content, search, offers, and product recommendations to shoppers across web, mobile, call center, and in-store channels.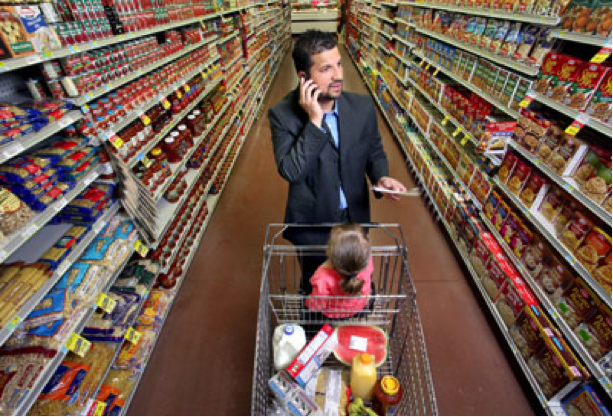 © Accenture 2016. All rights reserved.
Consumers are lost in choice – Accenture Interactive and RichRelevance aim to help clients make it easier for customers to find what they want, how and when they want it
The expanded relationship is expected to add further momentum to Accenture Interactive's globally growing personalization business and broaden RichRelevance's market footprint. Accenture Interactive also gains access to additional training opportunities for advanced skills in the RichRelevance platform and will be granted early insights into the RichRelevance product roadmap and development pipeline.
Together, Accenture Interactive and RichRelevance will continue to pursue opportunities to create differentiated client solutions and intellectual property, including collaborating to:
Help clients build digital concierge services for end customers using the RichRelevance Personalization Platform. Accenture Interactive will develop specific algorithms on the platform which clients can feed with data to provide their customers with meaningful experiences.
Deliver a more improved customer experience for clients through a combination of Accenture assets such as the Accenture Clustering Engine and RichRelevance's BuildTM services. The Accenture Clustering Engine is a proprietary artificial intelligence and cluster analysis solution; RichRelevance Build™ provides instant access to API-based personalization tools to manage and route data from any source and integrate personalization into any application.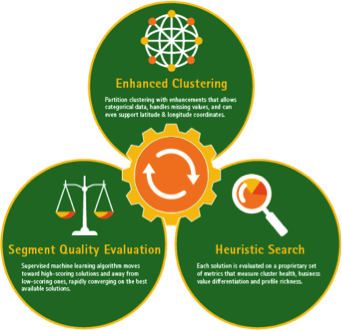 © Accenture 2016. All rights reserved.
The Accenture Clustering Engine uses artificial intelligence to help identify best candidate segments
Jeriad Zoghby, global personalization lead at Accenture Interactive, said: "As customer expectations for personalized experiences continue to grow, companies are looking for ways to leverage the availability of rich data and technology to power the next-generation of digital experiences. Together with RichRelevance, we can make it easier for customers to find what they want, how and when they want it by combining data-driven insights with a best-in-class personalization platform."
Eduardo Sanchez, President and CEO of RichRelevance, said: "RichRelevance provides the enterprise-scale personalization infrastructure that companies need to deliver a differentiated customer experience. To support record demand for our personalization platform, we've decided to strengthen our relationship with the world's largest digital agency and recognized leader in commerce. Our alliance will help clients deliver the kind of innovative customer experiences that consumers demand today."
Watch Jeriad Zoghby, global personalization lead at Accenture Interactive, discuss market trends and how Accenture defines personalization on RelevanceTV
Accenture and RichRelevance are broadening their alliance at a time when many companies are seeking help to redesign their service, data, and technology architecture to deliver more seamless digital and physical experiences throughout the customer relationship.
The two companies recently completed a personalization project with a leading premium vacation brand. Accenture Interactive, the client's digital agency of record, and Accenture's design and innovation unit Fjord redesigned the company's booking flow and trip planner, embedding RichRelevance's technology to personalize the guest cruise and excursion experience for the company's customer.
About Accenture
Accenture (NYSE: ACN) is a leading global professional services company, providing a broad range of services and solutions in strategy, consulting, digital, technology and operations. Combining unmatched experience and specialized skills across more than 40 industries and all business functions – underpinned by the world's largest delivery network – Accenture works at the intersection of business and technology to help clients improve their performance and create sustainable value for their stakeholders. With approximately 384,000 people serving clients in more than 120 countries, Accenture drives innovation to improve the way the world works and lives. Visit us at www.accenture.com.
Accenture Interactive, part of Accenture Digital, helps the world's leading brands drive superior marketing performance across the full multichannel customer experience. Accenture Interactive offers integrated, industrialized and industry-driven digital transformation and marketing solutions. It was recently named by Ad Age as the world's largest and fastest-growing digital agency. To learn more follow us @Accenture Social and visit www.accenture.com/interactive.
Accenture Ventures accelerates the adoption of early stage enterprise technology innovations. It identifies the most promising sources of innovation in the market, working with start-ups, entrepreneurs, investors, academic R&D, and corporate R&D groups around the world. Accenture Ventures develops alliances and partnerships to more quickly scale innovation. It also participates as a strategic investor where appropriate – always aligned with the objective to deliver the most innovative solutions to our clients.
Contacts:
Jens R. Derksen
Accenture
+49 175 57 61393
Renee Newby
BPR for RichRelevance
+757 651 6554
New research shows site search is critically important – especially with the upcoming holidays – and retailers leave sales on the table when site search fails
Shop.org Retail's Digital Summit — Dallas, TX — September 27, 2016 — RichRelevance®, the global leader in omnichannel personalization, today released new research that drills into how U.S. consumers search for and find products online. While site search is critically important to shoppers, the study suggests that many retailers have not evolved site search to meet the demands of an omnichannel world. The result is that frustrated web and mobile shoppers are likely to go elsewhere when retailers don't get it right.
"This is an important wake-up call for the retail industry," said Diane Kegley, CMO of RichRelevance. "Site search is tremendously important to shoppers, but under-delivers when it comes to all the channels where consumers shop today. The reality is that there hasn't been major advances in site search in a decade, and it's hurting retailers' bottom lines."
The study of more than 1,000 American shoppers finds that:
Search Is Critical to Shoppers
8 in 10 Americans (83%) say that the search box is extremely important or important when shopping on a retailer's web or mobile site.
Less than 1 in 10 (5%) say site search is not at all important. Comparatively, 6 out of 10 (56%) say that the search box is extremely important.
3 out of 4 shoppers (76%) always or often use the search box when shopping on a retailer's site.
In contrast, a mere 7% say they rarely or never use the search box.
3 in 4 Americans (73%) are likely to leave a retail site that doesn't provide good search results – and 37% say they are not at all likely to return.
Gift Giving Raises The Stakes
Nearly 4 out of 10 Americans (37%) state site search is 'more important' when shopping for gifts than it is otherwise.
Half of all shoppers (48%) rank the ability to 'easily search and find products' as the single most important thing when shopping for gifts on a retailer's site.
In contrast, product ratings and reviews (the second most popular features) received 26% of the vote.
Curated gift ideas, a traditional holiday staple, are far less important to shoppers with only 5% of respondents ranking these as most important when gift shopping.
Room for Omnichannel Improvement
More than a third of U.S. shoppers (35%) are generally unsatisfied with the search results they receive on a mobile device.
Nearly 4 in 10 (38%) say they get worse search results when shopping on their mobile device than laptop or desktop.
Consumers cite 'irrelevant product results' (28%) as the #1 frustration with site search.
More than 1 in 3 (36%) would like to see search results personalized to them based on their previous shopping behavior.
Methodology
The survey of 1,006 U.S. shoppers was conducted online in September 2016.
PRESS CONTACTS
Renee Newby
BPR for RichRelevance
757.651.6554
Take a moment and think about how you interact with your mobile device, how do you research or make purchases on your mobile phone? You'll quickly realize that your path to purchase most often begins with a keyword search, which often is vastly  different than how you navigate a dot-com site or your local brick and mortar retailer. Infact, 56% of all retail searches occur on mobile devices. Mobile access has changed the way we as consumers interact with the world and it has significantly changed the path to purchase. Mobile was once used for showrooming purposes, sending retailers into a tailspin about how to ensure shoppers didn't browse in store and convert elsewhere. Today, our challenge is different, mobile devices and behaviors have evolved, they're more intelligent and more capable to handle  a complete shopping journey. While showrooming and browsing behaviors still occur, the completion of the purchase on the mobile device is accounting for more and more of a retailer's revenue. According to Internet Retailer, mobile commerce is growing at 3 times the rate of US ecommerce overall, accounting for more than $104 billion in 2015.
Today's challenge is focused on how retailers  ensure that customers are finding what they're looking for on mobile devices so that they ultimately convert. This  begs the question, how well is your site search performing? Are your customers finding what they seek? Is your site search delivering a customer centric and mobile considerate experience? What metrics are you using to determine it's success or failure?
The traditional and dated way of measuring site performance (and commerce search within) by Revenue Per Session (RPS) and conversion were valid when ecommerce was simply just a dot-com site, which is not the case for today's world. Today, it is essential to measure the performance of each individual feature that leads to a purchase/conversion. In the case of site search, success is defined by the relevance of the results delivered by a search engine to an individual user.
Search is innately unique in the respect that it is the single place in digital shopping journeys where users communicate with technology in their own words and expect a comprehensive response or set of responses. By default, search demands 1:1 communication, and is one of the most impactful places to influence and enhance the customer experience. Search is often a retailer's first impression, especially on mobile, it is a critical opportunity to succeed by providing relevant and individualized results. Commerce Search accelerates product discovery and drives consumer conversion by delivering the most relevant results for each unique search query. The accuracy of the responses delivered by search is measured by what is known as "Findability".
Findability a term first coined by Professor Michael Hendron, whose research indicates that nearly a third of e-commerce shoppers use site search, and 90% of buyers will probably use it. Yet these same sought after buyers only find what they seek in half of all site searches.
Since when did the retail industry accept a success rate of just 50%?
Given that search is a feature most often chosen by a determined and informed consumer who knows exactly what he/she wants, especially in ecommerce, it is essential to measure how successful the actual search experience is for that individual. This is why Findability must be a focal point of consideration when analyzing the performance of site search. Findability tells merchants whether consumers find what they are looking for and if they are ultimately pleased with those items. The conversion of these shoppers can only come if they have in fact located the items they desire. It is a cause and effect relationship, and a relationship that if treated right will thrive. When consumers trust that their searches will yield results they're satisfied with, their search frequency and dependency simultaneously increases.
Are you measuring your site search properly? Are your customers finding what they're looking for? Perhaps the metrics you're currently using to determine performance are not providing you with the whole story. To get deeper insight into how to enhance your site search performance and learn more about Findability please visit https://richrelevance.com/relevance-cloud/find/ to stay in the know about our newest product launch Find™, the next generation of personalized search for an omnichannel world.
Did you know that almost half (48%) of page views are anonymous? I suppose this wouldn't be so concerning if it didn't result in 13% anonymous purchases. If only online shopping were simple and mandated that users login and only had one account, this problem would be solved, unfortunately for us, this isn't the world we live in. So how do we encourage more logins?
You could do what Priceline.com did and run a TV ad saying, "If you don't sign-in you'll die", but I'm inclined to think this might be too racy for many of you. That said, they made their point, and if you do sign-in, not only will you not 'die' but you'll also get a better deal.
Here are some ideas for how to increase your logins and simultaneously enhance your personalization capabilities.
Start with the 4 P's:
Product: Provide better products or features to those who login. Amazon, Wine.com, Nordstrom, Williams-Sonoma, JCPenney and many others provide product recommendations pages that are much more relevant when you are logged in.
Placement: Provide personalized features in all channels including desktop web, mobile web, email, mobile app and mobile app used in-store.
Price: Offer better prices or relevant discounts when logged in.
Promotion: Personalize coupons, special offers and discounts. Starbucks' mobile app is a great example. Still, many users won't login until just before purchasing. Two ways to get the most from personalization for users who aren't logged-in are:

Soft logins: This is when a user logs-in on a device, the retailer writes their user ID to a first-party cookie, the user logs out, and the retailer continues to use their user ID for the current and subsequent visits. Many retailers put a time limit on the cookie, such as 14 days between logins.
Provisional user ID: A temporary ID whose behavioral history is copied to a user profile when the user eventually does login. RichRelevance can use our third-party cookie IDs or a retailer's session ID as the provisional ID.
User matching comes in many shapes and sizes, the complexities of data and channels have created an entirely new obstacle for retailers and brands to overcome. Some select flavors include multiple accounts per user, matching in-store and web shoppers, cross-device and cross-brand matching. While the user matching hurdle might seem unattainable, trust me it's not. There are many ways to not only combat the user matching problem, but to also make great use of the surplus of data that becomes available with a multitude of users even if they're the same person.
To learn more about how you can start matching users and creating more robust and complete shopper profiles download our latest white paper, The 5 Types of User Matching Challenges and How to Solve Them.
*RichRelevance analysis of 3.7 billion page views across a dozen countries on 100 of the largest websites using RichRelevance technology
Last week over 300 in-store innovators from over 150 retailers gathered in Seattle for the 2016 Future Stores Conference. Future Stores brings together retail operations, omnichannel, customer experience and IT executives to focus on in-store innovation and how to bridge the digital and physical retail environments. As part of this we learned that there's a fine line between creepy and cool, especially when it comes to digital technologies in-store.
If you can recall a time pre-Facebook Newsfeed, or dare I say Facebook in general, then you know how easily perceptions of personal privacy invasion can be shifted. 15 years ago virtually everything about the Internet would have been perceived as outrageously invasive and today we welcome and seek out attention from strangers via likes on social channels. So in interest of keeping a real-time pulse on what customers think is actually cool today vs. what's really just creepy, we've conducted our 'Creepy or Cool' Survey for the second year running.
So here's what's up:
This is what's really totally cool (dare we say awesome):
You can scan a product on your mobile device to see product reviews and recommendations for other items you might like.
Overall: 79% cool; Millennials: 84% cool
Soon after you leave the store, you receive a digital coupon for a product you looked at but didn't purchase.
Overall: 52% cool; Millennials: 60% cool
When you check out, your print or email receipt includes product recommendations selected just for you.
Overall: 50% cool; Millennials: 59% cool
This stuff is 'Cool':
Your location in the store triggers personalized product information, relevant content, recommendations and discounts to pop up on your mobile device as you walk the aisles.
Overall: 40% cool; Millennials: 49% cool
Digital screens in each dressing room show products that complement the item that you are trying on.
Overall: 41% cool; Millennials: 49% cool
A salesperson makes more helpful suggestions because they can see what you've previously browsed and bought on their site and in the store.
Overall: 32% cool; Millennials: 45% cool

This stuff is totally creepy (aka give it 6 months):

Facial recognition technology identifies you as a high value shopper and relays this information to a salesperson.
Overall: 67% creepy; Millennials: 71% creepy
A salesperson greets you by name on the store floor because your mobile phone or app signals your presence:
Overall: 64% creepy; Millennials: 64% creepy
Want to read more? Keep reading here.
The survey of 1,018 US consumers was conducted by RichRelevance in May 2016.