Although we may not be flying around in rocket ships quite yet, retail today is about as futuristic as anyone could have imagined. It's hard to envision a world without the 24/7 on-demand access to the endless aisles of ecommerce retail. Personalization has played a huge role in, not only the success of companies like Amazon, but the advancements in ecommerce and retail as a whole. Personalization has enabled retailers to create digital channels that feel as intimate and customer-oriented as a physical store; so over time consumers feel recognized as unique individuals in their shopping journeys.
So what is next in the world of retail personalization?
In an effort to identify the top of mind personalization trends for retailers and brands in 2016, RichRelevance reviewed the requests for proposals (RFPs) from 2015. The retailer RFPs reviewed were largely represented by Internet Retailer's Top 100 in North America and were retailers who made over $75 billion in aggregated revenue.
Overall, we can see how retailers are uniting the consumer experience. Over the next year, retailers will leverage personalization to bring together all digital and physical channels – to create true omnichannel customer experiences based on three key trends.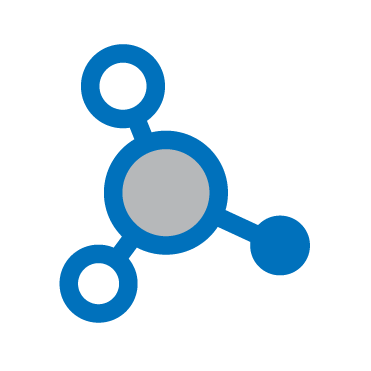 Trend 1: Completing Personalization
Retailers today are laser focused on enhancing shopper experiences by using data that is readily available across channels. With every additional touch point and channel, retailers have been granted the gift of data. Until now little has been done to leverage the information retailers have gathered and most of the data has not been synthesized to create an omnichannel experience. To fully implement personalization retailers require a powerful personalization platform to ingest retail data from feeds such as smartphones, tablets, point-of-sale systems, inventory and contact centers. The more data points a retailer collects and integrates, the more seamless a customer experience becomes across channels.
For example, consider how things might be merchandised in stores versus how they're displayed online – what departments are physically next to each other or across the aisle, and how leveraging purchase data from the store could positively impact online engagement and sales.
Integrating personalization from third party vendors and channels also plays a crucial role in unifying all the elements of the consumer's physical and digital world. By influencing personalization with geographic, demographic, weather and loyalty components adds an incremental layer of sophistication and relevance.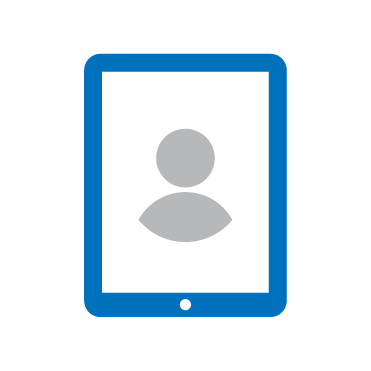 Trend 2: Enabling Smarter Associates
Tying directly into Trend 1, leads us to the next trend of enabling smarter associates. Today's retailer wants to enable customer-facing personnel with digital technologies to help associates deliver in real time the highest level of customer service possible. By using a personalization platform that synthesizes human intelligence with artificial intelligence the retail associate can leverage all cross channel customer data, product details and content at every interaction.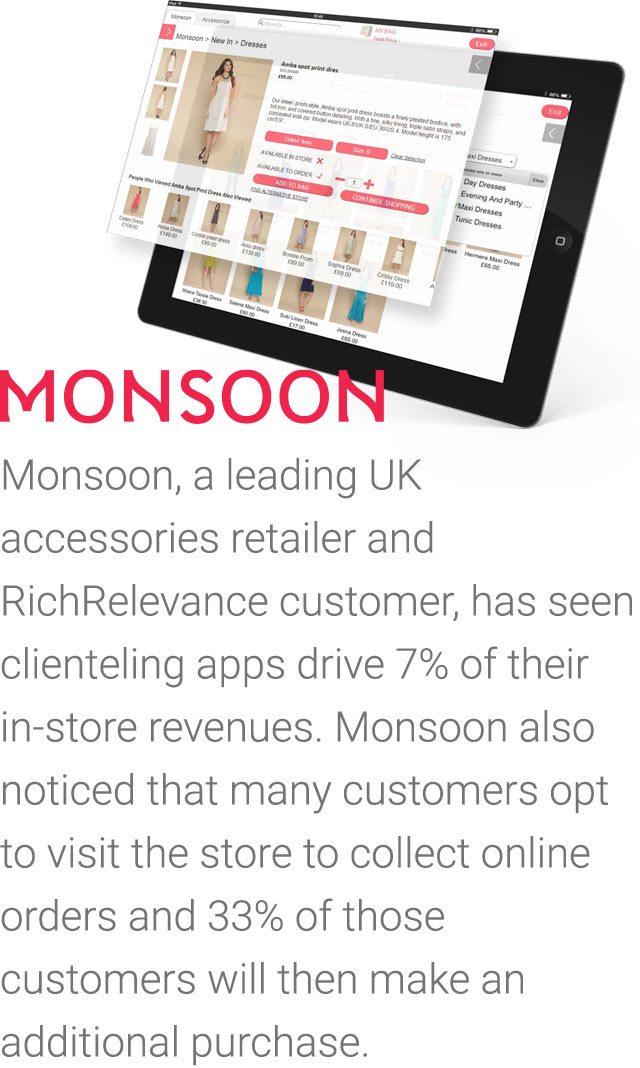 One of the biggest challenges in retail is bringing together all shopping channels to deliver a seamless customer experience. An ideal experience has no friction, so that when a consumer walks into a store or calls the contact center, the retail representative already knows everything that customer has looked at, purchased and even returned over the years. To solve this problem of eliminating friction to consumers, retailers are launching a variety of associate-facing applications for use in stores and even contact centers. These applications recall all previous and current customer behaviors/purchases in real time so that an associate can offer a level of customer service that is complementary to the individual's history, tastes and preferences.
Enabling smarter associates will also play a big role in personalizing contact or call centers. By leveraging different types of clienteling applications, agents will no longer need to spend time determining who a shopper is or what they want. The application will give the agent a real-time view into recent browsing history and purchases across channels to offer a relevant response right from the start.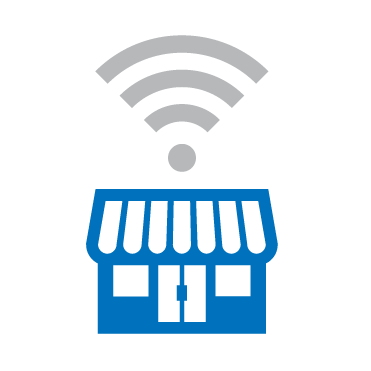 Trend 3: Launching Tech Savvy Stores
In an effort to combat the strong footprint that the Amazon and other pure play ecommerce retailers have acquired over the last decade, multichannel retailers are bringing technology to the storefront. Retailers are creating unique and innovative shopping experiences to tend to the zero-friction shopping needs of the modern consumer.
A great example of in-store innovation includes the Intelligent Fitting Rooms that leverage RFID (Radio Frequency Identification) tags to recognize clothing that is brought into the fitting room. By integrating this technology in the fitting room, retailers can help shoppers find alternate sizes and offer intelligent recommendations to suggest alternatives or assist in completing a look.
In summary, this is the year of a unified customer experience placing great focus on cross-channel shoppers, anticipating their needs and catering to them with services that previously didn't exist. The three trends of completing personalization, enabling smarter associates and launching tech savvy stores create an sophisticated and seamless omnichannel experience for the shopper, and ultimately allow personalization technologies to influence even more of the consumer experience than ever before.
For more 2016 insights visit us at our RelevanceTV YouTube channel.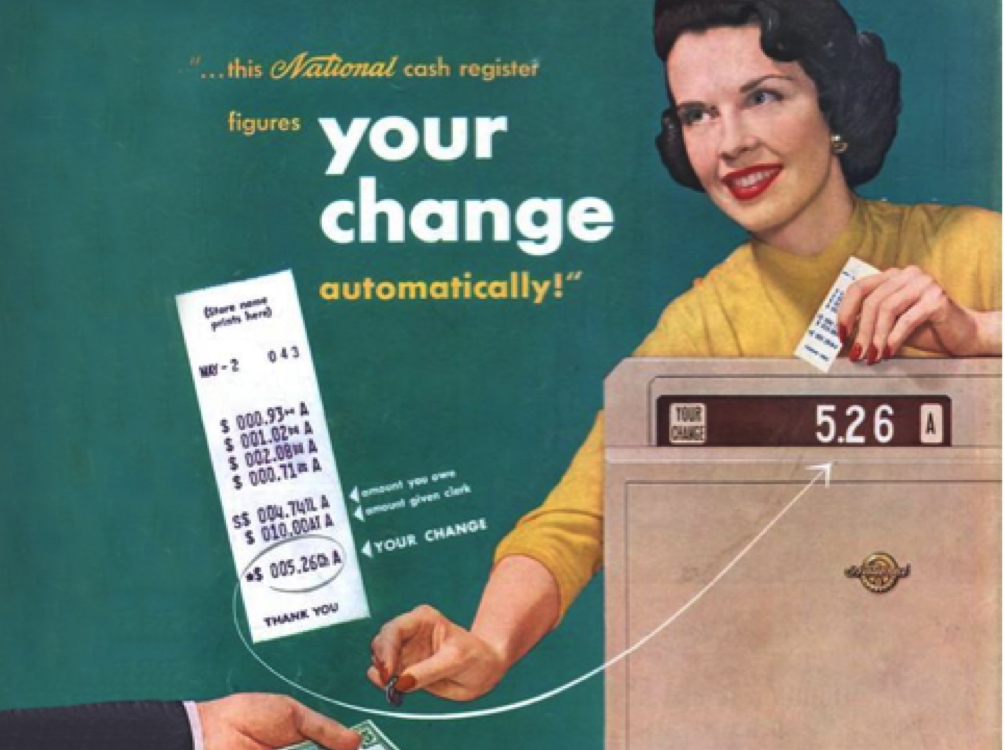 …and it is your customer data.
Nine out of ten purchases still take place in the store. That means that with each swipe of the credit card, customers send a strong signal of preference by means purchase. But today this signal is lost into one of these: DMP, CRM, or another three-letter acronym for your data sinks.
So why not take make use of this rich data?
Point-Of-Sale (POS) data can provide insights into the real-time shopping trends in a local area or what items/brands an individual shopper prefers and/or has already purchased. It's only logical that with a bit of wizardry with this data, you should be able build better models that represent your shopper base and provide more relevant personalization for shoppers regardless of the channel they are utilizing. POS data is proving already to help supercharge online personalization for web, mobile and email as some of our more innovative retailing partners are finding.
We have worked with a few adventurous retailers ($10B+ office supplies retailer and $1B+ upscale department store), to quickly test this hypothesis on these next generation recommendation models. We integrated in-store transactions into the Relevance Cloud™ and ran a test. One that used offline+online purchase data to build recommendation models and a control version that used just the online purchase data.
After 45 days, we found that strategies that used offline+online data drove +1% incremental lift in revenue per session sitewide (beyond the performance of existing recommendations). One percent lift may not seem much at first glance, but this is a significant return for billion-dollar retailers with little effort. And there is even more room for improvement. The retailers included in this test did not have a perfect offline-to-online product catalog overlap, meaning there is still incremental value that can be derived once these SKUs are resolved.
In the process we also discovered some key insights about the omnichannel shopper's behavior:

Never leave another customer data set at the till again
Offline data ingestion is a simple process. RichRelevance Omnichannel strategies take the following datatypes and offer personalization based on a 360-degree view of individual consumers:
POS Transactions: Purchases, orders and returns that contains a purchase date, item(s), customer ID, and monetary value.
Shopper Segments and Attributes: Customer or household segments such as gender, location, loyalty tier, etc. from homegrown databases, CRM records or third-party resources (Merkle, Acxiom, LiveRamp, BlueKai, etc.).

So when emptying your cash register at the end of the day…
…don't leave your customer data behind. Put it to work to get more out of your online personalization and build richer experiences.
Learn more about Offline Data Ingestion.
Les big datas sont partout… Mais comment les utilise-t-on ? Cas concret avec l'exemple de la Fnac qui a exposé sa méthode lors du Salon des Data à Paris. Une solution parmi d'autres à l'heure où les objets connectés compliquent la reconnaissance du client.
L'analyse prédictive, plus perspicace que le flair d'un commerçant? La plupart des grands distributeurs leur font en tout cas confiance pour tirer de leurs "grandes données" de quoi augmenter leurs ventes.
Analytics has always been the sexy bit of data management. That's where the nuggets of insight are teased to the surfaced and millions made by understanding why diapers sell beer or who is newly pregnant or how to route a jet so it burns 25% less fuel. But, behind that, there has always been the grunt work of extracting data from multiple, disparate sources, cleansing it of partial or bogus records, transforming it into a consistent and usable format, and loading it into the target analytics engine.
RichRelevance Inc. faces one of the prototypical big data challenges: lots of data, and not a lot of time to analyze it. For example, the marketing analytics services provider runs an online recommendation engine for Target, Sears, Neiman Marcus, Kohl's and other retailers. Its predictive models, running on a Hadoop cluster, must be able to deliver product recommendations to shoppers in 40 to 60 milliseconds — not a simple task for a company that has two petabytes of customer and product data in its systems, a total that grows as retailers update and expand their online product catalogs.
Today, I'm super excited to announce the launch of the Relevance Cloud™– what we at RichRelevance believe to be the most comprehensive personalization solution for retail today. The Relevance Cloud is a re-imagining of all RichRelevance products with new features and more simple ways to access, use and implement each of RichRelevance's products.
Our Discover, Engage, Recommend and Build products empower retailers to deliver and innovate brand-centric customer experiences that span the customer lifecycle across all channels. Each of these products is powered by the Personalization Graph—a unified customer view which aggregates key data on customer behavior, content, context and products. The Personalization Graph is the next generation customer view. Powered by Big Data technologies, it's flexible, streaming and scalable. Unlike the rigid CRM-centric view of the customer, the Personalization Graph sees each consumer as a fluid, ever-changing and increasingly complex stream of events and touchpoints, reflecting the reality of today's consumers.
Here are the parts of the Relevance Cloud: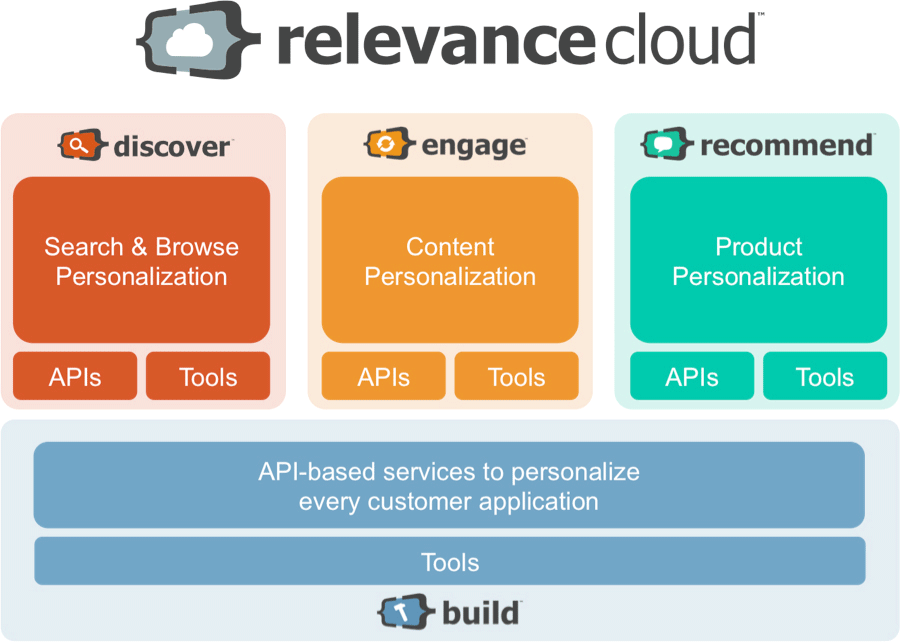 Especially exciting to me is the debut of our Build API-based services (I am an engineer after all! ☺). The opening up of our SOA and platform are key to unlocking the next revolution in personalization. Personalization is not simply an application (e.g., the market-leading Recommend product recommendations) but a capability which must be deeply integrated into the fabric of every customer-facing moment, incorporating the essence of each retailer's unique customer strategy. Data science as a skill set continues to mature within retailers, and with Build, we provide an open, flexible architecture for our retailers' data science teams to create entirely new customer experiences.
Case in point: one of our long-time customers, Wine.com employed a "bring your own algorithm" approach to test and deploy a "similar products" recommendation strategy, incorporating their unique knowledge of their specific assortment. It ended up driving $5 per click—becoming one of their best strategies in terms of revenue per click and increasing overall orders and revenue, not to mention dazzling their customers by putting forward their industry specific expertise.
RichRelevance's Relevance Cloud manages all the heavy lifting (fault-tolerant infrastructure, the operationalization of data, etc.) so that our customers can focus on what they do best: designing differentiated experiences that speak to shoppers 1:1, ensuring that personalization delivers a significant market advantage. I hope you are excited as I am about this next generation of personalization!