Last week over 200 in-store innovators from 120 enterprise retailers, gathered at Future Stores in the Victoria Park Plaza in London. The event is a 'one-stop-shop' for retailers seeking practical solutions to accelerate their in-store transformation projects from concept to reality.
There were many interesting topics covered from in-store design to leveraging data from digital channels to adapt in-store experiences. The common thread throughout all the conversations, presentations and debate – was putting the customer at the heart of all strategies and initiatives; from driving customer engagement to improving their experience and making their shopping journey as easy as possible.
One of the most interesting debates was about the use of technology in-store. It was abundantly clear retailers are either embracing it or running in the opposite direction. There are perfectly legitimate reasons as to why a retailer is on one side of the fence or the other.
Where a retailer has a high turnover of sales staff with busy stores and peaks at checkout tills, utilizing technology on the shop floor can certainly enhance the customer's experience. In this scenario, arming sales assistants with access to stock levels, personalized recommendations and complementary products plus the ability to take payments on the shop floor, improves the experience for customers, saving them time and results in more sales and less returns.
However, if a retailer has highly trained, loyal sales assistants who are knowledgeable and enthusiastic product advocates, who act as personal advisors to their shoppers, supporting technology to help the sales process is arguably reduced.
Regardless of the environment or scenario, it's agreed that technologies introduced to the in-store experience should be complementary to the shopping journey – not a distraction for associates and shoppers alike.
Ultimately, it will be the customer who decides. As our 'Creepy/Cool' survey from 2015 revealed, shoppers also have different attitudes towards technology in-store. Where some shoppers embrace features such as facial recognition and interactive mirrors making product suggestions in changing rooms as cool, others are turned off at the mere thought. Therefore, the type of customer a retailer has will influence their use of technology in-store. That said, attitudes can and often do change over time, and I'm certainly looking forward to the latest 'Creepy/Cool' survey results, which are out in the next few weeks.
Overall, we thoroughly enjoyed the debate at Future Stores, and we're looking forward to their next event in Seattle in just a few weeks time.
Strategic partnership brings personalized recommendations and content to store associates through the integration of Starmount Customer Engagement Suite™
and the Relevance Cloud™ platform
San Francisco, CA — February 24, 2016 — RichRelevance®, the global leader in omnichannel personalization, and Starmount®, a leader in omnichannel retail point of sale (POS) and in-store customer engagement solutions, today announced a strategic partnership to power high-impact, personalized experiences for retailers and store shoppers. The partnership integrates Starmount's Customer Engagement Suite™ with the independent Relevance Cloud personalization platform to bring personalized product recommendations and content to the POS.
More than 230 leading retailers use the Relevance Cloud to power personalized content, offers and product recommendations to shoppers across web, mobile and store. Starmount offers the industry's first fully integrated enterprise solution designed to provide retailers and their customers with a POS experience that includes full omnichannel capabilities.
"The Starmount / RichRelevance partnership empowers retailers to provide a greater and more personalized level of customer experience than ever before," said Joe Halloum, President and CEO, Starmount. "For retailers, providing a consistently great omnichannel experience is quickly becoming table stakes, and our retail-proven in-store customer engagement and POS solutions, combined with superior personalization capabilities from RichRelevance, provide the fundamental building blocks retailers need to stay on top in today's volatile selling environment."
The new partnership gives sales associates instant access to products, promotions and content that reflect each shopper's history, behavior and preferences across channels, as well as 'endless aisle' inventory available in other stores and warehouses. As a result, associates can now offer the most relevant knowledgeable suggestions to each shopper — anywhere in the store and at any point in the customer journey — boosting sales while surpassing customer expectations for a seamless omnichannel experience.
"We are committed to bringing the most innovative technology assets into the independent Relevance Cloud personalization platform," said Eduardo Sanchez, President and CEO, RichRelevance. "Our Starmount partnership reinforces the importance of the physical store as a foundation of omnichannel retail while strengthening the Relevance Cloud with a new touchpoint to guide and support in-store purchases."
"Retailers now know their biggest challenge is how to merge the digital and physical selling worlds into one seamless customer experience," Nikki Baird, managing partner at Retail Systems Research, recently explained to Internet Retailer. "The compelling opportunity for retailers is in blending the best of what the digital realm has to offer with the best that the physical realm delivers."
How It Works
Sales associates using Starmount Engage™ on a tablet or handheld device can engage store shoppers with real-time product recommendations and content, including endless aisle inventory from other stores or warehouses. Sales associates can leverage profiles of known customers to provide recommendations based on their previous history with the retailer, or cultivate new relationships based in knowledge, relevance and value.
Product and content suggestions are generated for each shopper in real-time through the Relevance Cloud and reflect both 'wisdom of the crowd' and customer data generated from store, online, mobile and call center. Advanced algorithms, optimization and presentation provide associates with frictionless access to the right products and content (by category, brand or both) to foster communication, conversion, cross-sell and upsell with customers.
About Starmount
Starmount solutions power the store as the center of the omnichannel retail experience, creating a data-rich commerce platform to engage shoppers, streamline operations, and support seamless and consistent cross-channel customer interactions. Our solutions combine the best of in-store, online and mobile shopping to empower associates to personalize the store visit, drive more sales anywhere in the store with robust product information, and access and fulfill inventory from any location. We're the partner of choice for innovative brands who are redefining the role their stores play in today's new era of retail.
PRESS CONTACTS
[columns count=2]
Renee Newby
BPR for RichRelevance
757.651.6554
[/columns]
[columns count=2 class=last]
Jeff Ketner or Mariana Fischbach
Ketner Group PR + Marketing (PR agency for Starmount)
512.794.8876
[/columns]
RichRelevance survey of over 1,000 UK consumers reveals Londoners are most open to digital enhancements to shopping experiences while Yorkshire most "creeped out"
London, UK, 13th July 2015— RichRelevance®, the global leader in omnichannel personalisation, today released a new UK study, "Creepy or Cool" that reveals almost three quarters (72 per cent) of UK consumers find personalisation of product recommendations based on purchasing habits a "cool" capability when shopping. British shoppers also welcome location-based personalisation in store, with over 6 in 10 (63 per cent) welcoming a mobile personalised map showing item locations and efficient store paths to help them navigate stores more conveniently. Furthermore, 43 per cent find in-store location deals – where their location is tracked in order to trigger personalised promotions whilst shopping – "cool".
However, 7 in 10 UK shoppers would find facial recognition technology that identifies age and gender in order to display product recommendations "creepy", while three quarters (76 per cent) of British consumers felt the same about being greeted by their names when walking into a store because of their mobile phones signaling their entrance.
Broken down into national regions, the statistics show that consumers in Yorkshire and The Humber are the most creeped out by personalisation, with a "Creepy" score of 30 per cent. However, London is nearly even-keeled when it comes to in-store technologies, with a "Creepy" score of just 2 per cent. Furthermore, the survey revealed that men are 5 per cent more likely than women to shop at a retail store that offers a digitally personalised experience.
The study also shows an age disparity when it comes to getting personal in store. While half of under-30s find personalised product recommendations in the dressing room "cool", only a quarter of over-45s would welcome this capability. Furthermore, 56 per cent of over-60s find it creepy to have their location in store trigger personalised promotions, but two-thirds (63 per cent) of under-29s find this capability cool.
"While it's always been a well-known fact that UK consumers are keen protectors of their privacy and personal space, we now have a clearer view into where they are increasingly embracing – and even expecting – tailored shopping services in the fast-changing world of retail," said Diane Kegley, CMO of RichRelevance. "Personalisation in the form of facial recognition or personal greeting at store entrance may not be welcome, but we're seeing a trend of younger consumers who are open to a connected shopping experience—receiving recommendations delivered within their personal space like dressing rooms and smartphones, and allowing in-store tracking if it means getting a better deal."
Creepy or Cool: Key Findings
According to Forrester, nearly 7 in 10 shoppers now use a mobile device while in the store, and retailers are investing heavily in new technologies to make the in-store shopping experience better than ever. This survey of 1,049 consumers in the UK was conducted in May 2015, and locates nine digital store capabilities along a continuum of cool and creepy. Highlights include:
Cool
Scan a product on your mobile device to see product reviews and recommendations for other items you might like. Overall rating: 72 per cent cool
An interactive map on your mobile phone shows exactly where items are located and charts your most efficient path through the store. Overall rating: 63 per cent cool
Your in-store location triggers personalised product recommendations, promotions and coupons to pop up on your mobile device as you are shopping. Overall rating: 43 per cent cool
Getting Creepy
Products in store don't have price tags; instead digital screens display prices that are tailored just to you. Overall rating: 44 per cent creepy
Digital screens in each dressing room provide products recommended just for you based on your current items and past purchases. Overall rating: 45 per cent creepy
A salesperson unlocks the dressing room door before you arrive based on your detected location within the store. Overall rating: 63 per cent creepy
Creepy
Facial recognition technology identifies age and gender to target advertisements on digital screens. For example, an eye cream promotion for an older female shopper. Overall rating: 68 per cent creepy
A salesperson greets you by name when you enter a store because your mobile phone signals your entrance. Overall rating: 73 per cent creepy
Facial recognition technology identifies you as a high-value shopper and relays this information to a sales associate. Overall rating: 77 per cent creepy
An infographic is available here. The full study with breakout by age groups is also available upon request.
*The "Creepy" score is calculated by taking the total "Creepy" score (percent) of each region and deducting that region's total "Cool" score (percent), to reach a net percentage of how much each region's 'creepy' ratings outweighs its 'cool' ratings.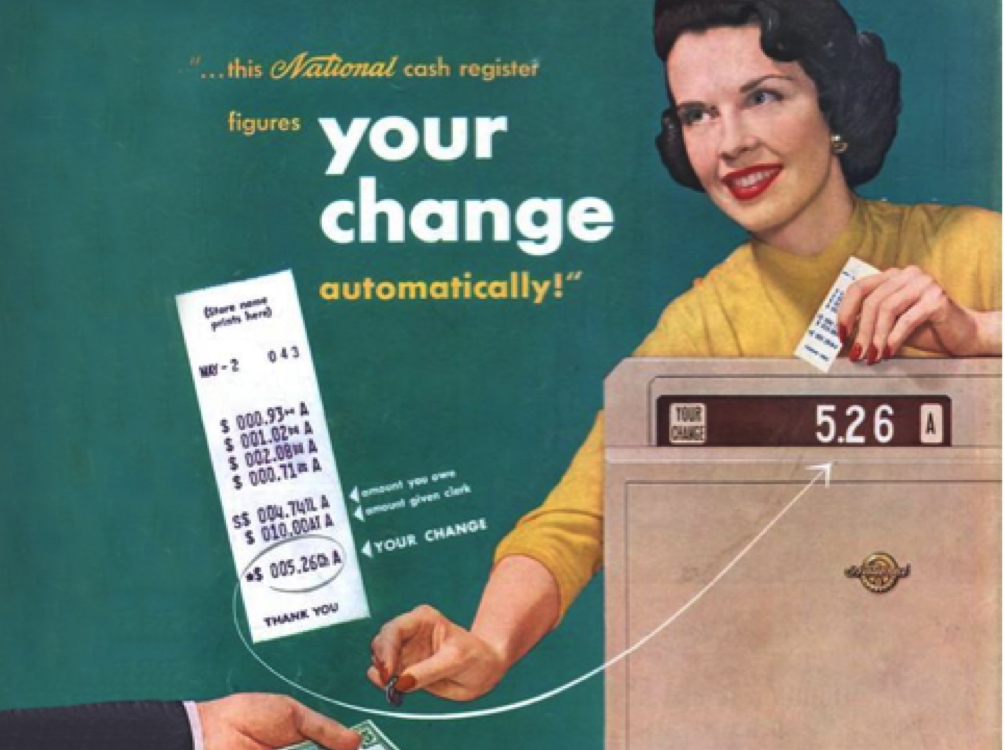 …and it is your customer data.
Nine out of ten purchases still take place in the store. That means that with each swipe of the credit card, customers send a strong signal of preference by means purchase. But today this signal is lost into one of these: DMP, CRM, or another three-letter acronym for your data sinks.
So why not take make use of this rich data?
Point-Of-Sale (POS) data can provide insights into the real-time shopping trends in a local area or what items/brands an individual shopper prefers and/or has already purchased. It's only logical that with a bit of wizardry with this data, you should be able build better models that represent your shopper base and provide more relevant personalization for shoppers regardless of the channel they are utilizing. POS data is proving already to help supercharge online personalization for web, mobile and email as some of our more innovative retailing partners are finding.
We have worked with a few adventurous retailers ($10B+ office supplies retailer and $1B+ upscale department store), to quickly test this hypothesis on these next generation recommendation models. We integrated in-store transactions into the Relevance Cloud™ and ran a test. One that used offline+online purchase data to build recommendation models and a control version that used just the online purchase data.
After 45 days, we found that strategies that used offline+online data drove +1% incremental lift in revenue per session sitewide (beyond the performance of existing recommendations). One percent lift may not seem much at first glance, but this is a significant return for billion-dollar retailers with little effort. And there is even more room for improvement. The retailers included in this test did not have a perfect offline-to-online product catalog overlap, meaning there is still incremental value that can be derived once these SKUs are resolved.
In the process we also discovered some key insights about the omnichannel shopper's behavior:

Never leave another customer data set at the till again
Offline data ingestion is a simple process. RichRelevance Omnichannel strategies take the following datatypes and offer personalization based on a 360-degree view of individual consumers:
POS Transactions: Purchases, orders and returns that contains a purchase date, item(s), customer ID, and monetary value.
Shopper Segments and Attributes: Customer or household segments such as gender, location, loyalty tier, etc. from homegrown databases, CRM records or third-party resources (Merkle, Acxiom, LiveRamp, BlueKai, etc.).

So when emptying your cash register at the end of the day…
…don't leave your customer data behind. Put it to work to get more out of your online personalization and build richer experiences.
Learn more about Offline Data Ingestion.
UK high street fashion chain Monsoon Accessorize is combining shoppers' online and in-store purchasing history to offer personalised offers to them in-store.
Monsoon Links Shoppers' In-Store and Online DataBy using data mining tools developed by online personalization specialist RichRelevance, Monsoon is able to analyse both customers' in-store and online purchasing habits.
Monsoon Accessorize has become the first UK high street retailer to use multichannel data sources from both its in-store and online customers to deliver unique personalised offers via emailed receipts. The move sees the fashion chain provide its customers with the most sophisticated and relevant offers of any multichannel retailer.